[DE] Zur Ankündigung auf Deutsch [LINK]
[FR] Voir Annonce en français [LIEN]
[ES] Ver aviso en español [LINK]
[TH] อ่านประกาศภาษาไทย [LINK]
[ID] Baca pengumuman dalam bahasa Indonesia [Link]
[RU] Информация на русском [LINK]
[PT] Ver aviso em português [LINK]
Greetings, Adventurers!
The Patch Notes for the update on June 22 (Tuesday) are here!
In this update, we've added new content, events, bug fixes, and overall improvements to the game.
See below for more details about this update.
※ All screenshots were taken from the test environment and may differ from what appears in the live server.
If you find something in-game that's different from the Patch Notes, please feel free to contact the support center.
■ Corsair Pre-Creation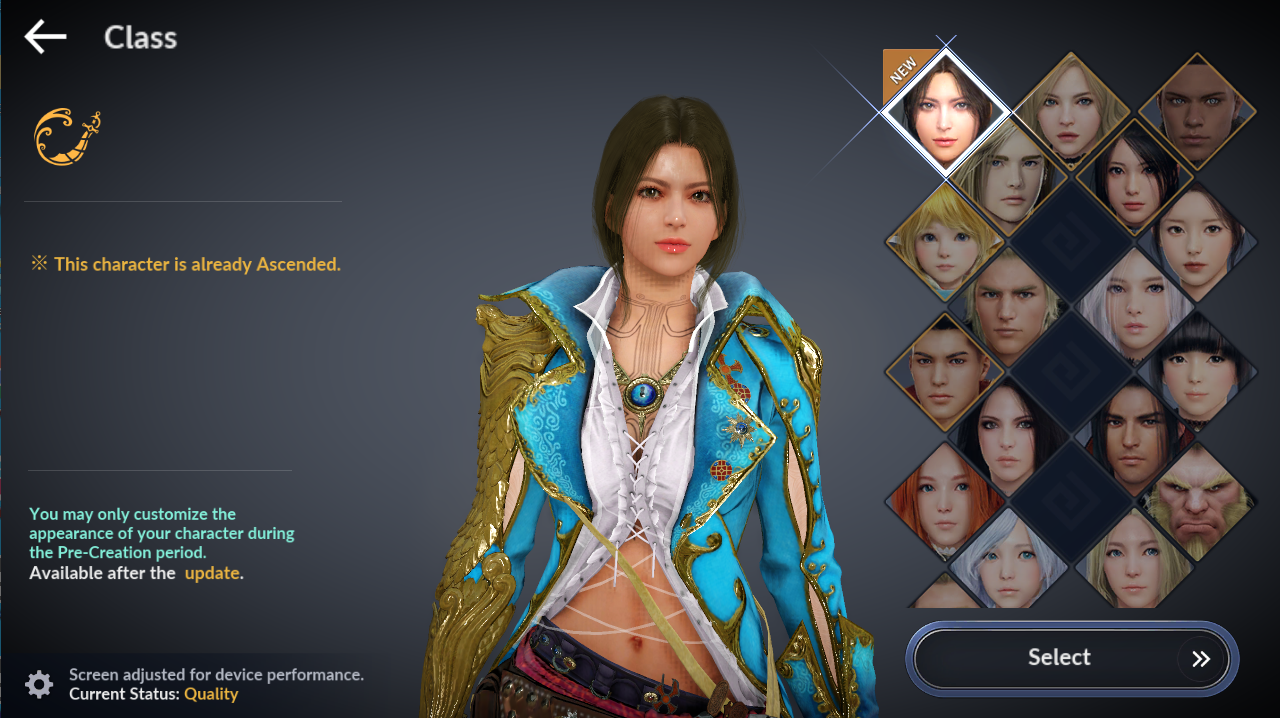 - Corsair Pre-Creation has begun.
- The class will be available to play after maintenance on June 29.
■ New Treasure
- Added a new treasure, Omar Pickaxe, to Orzeca's Garden.
- When Omar Pickaxe is in your inventory, the appearance of your pickaxe will change and you will be able to mine from one source indefinitely as long as you have the stamina.
ㆍ The effects won't apply if the item is in the Horse Inventory or Storage.
- Omar Pickaxe effect applies in Temple of Ohm.
- Omar Pickaxe effect only applies when it's in the character's inventory.
ㆍ Example: If character A has the Omar Pickaxe in their inventory, only they benefit from the effects and no other character. If you wish to move the Omar Pickaxe to another character you can use the Horse Inventory or Storage to do so.
■ Family Related Content
Developer's Comments:
Some of the more popular family content, such as Path of Glory and Constellations where 5 family members are selected to fight as a party, seem to have a high entry barrier.
Our veteran Adventurers find this content accessible since they have been growing their characters using such content as the Tower of Trials. However, newer Adventurers might find themselves in a difficult position where they may have to set aside their main character to grow the other family characters to access content such as Path of Glory.
We have modified Path of Glory to make it more accessible to fresh players by reducing the required CP to use the content, so as to give less pressure to have 5 characters to do so. The party number for lower rifts will increase gradually.
Within the same vein, we have reduced monster CP for the aforementioned rifts.
We have also reduced the entry CP for the first Constellations (Sealing Stone and Hammer) to lower the barrier to entry in the constellation content.
▷ Path of Glory
- Changed the required CP to start Path of Glory to 5000, reduced the party size in the first few Rifts, and rebalanced monsters accordingly.
· Rift 1 (2): 11500 > 6000
· Rift 2 (4): 17000 > 9000
· Rift 3 (5): 22000 > 12000
· Rift 4 (6): 26500 > 16000
· Rift 5 (6): 31000 > 20000
· Rift 6 (6): 35000 > 24000
· Rift 7 (6): 39000 > 29000
· Rift 8 (6): 42000 > 34000
· Rift 9 (6): 45000 > 39000
· Rift 10 (6): 47000 > 44000
▷ Constellation
- Reduced the difficulty for Sealing Stone and Hammer Constellations.
· Sealing Stone: 55000 > 31000
· Hammer: 55000 > 43000
■ Valencian Siege War
- Modified the mode so that when the Holy Artifact is destroyed in under 10 minutes, the last round's time limit is equal to the time it took to destroy the Artifact.
· Example: If the Holy Artifact was destroyed in 6 minutes, the last rounds time limit will be set to 6 minutes.
- Changed the spawn location for the summoned Siege Weapons.
- Added One-Way Gate to both sides of Central Outer Gate.
- Modified the One-Way Gate on the Inner Gate side so that it only disappears if the two Inner Gates on the defending side are destroyed.
- Removed the message that displayed the remaining HP of the Defense Tower during Siege War.
- Modified the Siege War mini-map not to display the Defense Tower icon.
■ General
- Fixed an issue where, at times, when targeted by grab skills the character acted abnormally.
- Fixed an occasional error where, at times, if hit while trying to mount a steed, the character would become unable to mount.
- Fixed an issue with delayed loading when selecting some characters in the character selection window.
- Fixed an issue where, after installing decorations in camp, the Weapon On/Off option in expressions did not function properly.
■ Sura
- Fixed an issue where Twin Dragon's [Flow: Second Bite] did not activate when a branch was not activated.
- Fixed an issue where Sura's social action 3 was different than intended.
■ Grandmaster
- Endurance
· Increased the Skill Damage Increase effect by 5% (20% -> 25%).
· Changed the [increase skill damage by 20%] effect after using Shoulder Thrust one time. (1 -> 2)
■ Blade Master
- Resonant Blade
· Changed the skill icon.
■ Patrigio
- Added the following to Patrigio's Shop:
· Tier 4 Pet Chest
· Tier 5 Pet Chest
· [Mystical] Accessory Chest
· Slightly increased the chances of Patrigio offering Abyssal Armor.
■ Market
- Adjusted the price limits for these items in Market:
· Unidentified Shaman's Orb
· Inscribed Glyph
· Primal Unknown Glyph
· Abyssal Unknown Glyph
· Mystical Unknown Glyph
· Epic Unknown Glyph
· Unique Unknown Glyph
· Breath of Life
· Breath of Creation
· Iron Ore
· Copper Ore
· Tin Ore
· Rugged Boulder
· Log
· Wild Grass
· Cotton Wool
· Herb Grass
· Silk Ball
· Light Timber
· Sturdy Timber
· Pale Softwood
■ Guild
- Added a function to allow you to see information such as the Guild name, level, and announcements when you join a Guild in a pop-up window.
■ Inventory
- Improved inventory window to emphasize order by weight button if the weight is over 90%.
■ Family Name
- Improved the [Family] Register Family Name quest so that, after registering your family name, it does not log out of the game.
· After finishing the quest, the temporary family name will be displayed until you log out and log back in. Your selected family name will display after doing so.
· In places requiring entering family name and in chat, the changes will apply after the next update.
※ This will not affect Adventurers who have already registered their family names.
■ Server Chat
- The requirement for opening server chat has been changed from completing the main quest in Valencia to defeating [Boss]: Bheg in Serendia.
· You can now check the opening requirement for server chat from the Open Requirement window.
■ Main Quest
- Fixed the abnormally high damage (relative to HP) that would be received during the [Boss]: Giath quest at times.
■ Camp Workers
- Restricted camp workers' tasks to limit any task that could take longer than 3 days.
■ Chatting
- Improved the restricted words filter in chat.
■ Life & Combat Plus
- Improved the Life Plus and Combat Plus purchase notifications to appear after the player has advanced a certain amount in the game.
■ Gear Preview
- Improved Gear Preview to include options for seeing weapons, head gear, and ornaments in the same manner as in the inventory window.
■ Contribution
- Improved the UI for the message displayed when contribution level goes up.
■ Loot
- Improved the loot display pop-up to better display the currency gained.
■ Content Open Requirement
- Improved the main menu UI to not display the Open Requirement button after all the content has been opened.
- Improved the message that displays after opening content to show what has been opened.
■ Delivery
- Added a notification to show if you have fish you can deliver.
■ iOS Devices
- Optimized game specifications for some recent iOS devices.
■ Black Spirit Level Requirement
- Modified some quality of life features related to Black Spirit.
· Auto-Gathering: Black Spirit Lv. 60 > 40
· Auto-Gear Enhance: Black Spirit Lv. 90 > 60
· Auto-Boss Rush: Black Spirit Lv. 110 > 80
■ Horse Emblem
- Added Batch Register function to allow registering multiple Horse Emblems at once.
■ Great Desert
- Fixed an issue where consuming purified water in the Great Desert world map did not instantly update the available Desert adventure time.
- Fixed an issue where, when failing in Temple of Luinass due to the time limit, the stage did not end.
- Fixed an issue where, after using Combat Plus, entering the Temple of Ohm was possible despite not meeting the CP requirement.
- Fixed an issue where, after failing in Great Temple of Tukar due to the time limit, the Adventurer would not be able to exit the stage after being killed by Tukar Laytenn.
■ Pursuit
- Fixed an issue where, during a pursuit, the 'in combat' status was not checked, leading to a change of stage.
■ Horse
- Fixed an issue using Quantum Jump with a Tier 8 or higher horse could move you to unintended locations.
■ Power Saver Mode
- Fixed an issue where, after dying in the Power Saver Mode, the time of death and Elion's Blessing time were displayed incorrectly.
■ CP Composition
- Fixed an issue where, when displaying CP composition, it appeared as if Lightstone CP was counted twice within family CP.
■ Craft Page
- Fixed stat display error in the item description of crafted Primal Alchemy Stones in the Craft menu.
■ Boss
- Fixed an issue where some missions for defeating Bosses were not completed immediately.
■ Great Desert
- Fixed an issue where some monsters with available knowledge were marked as 'No Knowledge'.
■ Nightmare
- Fixed an issue where you could enter your camp from nightmare.
■ Starting Event
- Corsair Launch Gift
・Event period: after maintenance on June 22 (Tuesday) - until July 19 (Monday), 23:59
- Corsair Premium Login Event
・Event period: after maintenance on June 22 (Tuesday) - until July 19 (Monday), 23:59
・Premium Login Pass available for purchase after maintenance on June 22 (Tuesday) - until July 6 (Tuesday), 23:59
- Black Spirit's 6-Level Special Mission!
・Event period: after maintenance on June 22 (Tuesday) - until June 28 (Monday), 23:59
- World Boss Mass Spawn
・Event period: from June 26 (Saturday), 12:00 - until June 27 (Sunday), 22:00
■ Ending Event
- Sura Premium Login Event
- Mariana Fiesta Event
- Proof of Power Collection Event
- Ahonia Kirus' Daily Mission

※ Products with a sales period marked [TBA] will be announced separately through future Patch Notes listed under the [Sales Ending] section.
※ For products with a set sales period, go to the Pearl Shop in-game and view the products.
■ Pearl Shop
- Special Package
· Corsair Prep Chest I & II
- Step-up
· Into the WAVES Step-up I
· Into the WAVES Step-up II
· Into the WAVES Step-up III
· Into the WAVES Step-up IV
· Into the WAVES Step-up V
You need to purchase lower Step-Up packages to purchase the next Step-Up package.
※ The Step-up packages' level and purchase record will reset weekly (Mondays 00:00 server time).
- Appearance & Pet > Outfit
El Pento (Armor) Warrior
Coco (Armor) Ranger
Coco (Armor) Witch
El Pento (Armor) Giant
Coco (Armor) Valkyrie
Coco (Armor) Sorceress
Coco (Armor) Dark Knight
El Pento (Armor) Striker
El Pento (Armor) Musa
Coco (Armor) Tamer
Coco (Armor) Maehwa
El Pento (Armor) Archer
El Pento (Armor) Hashashin
El Pento (Armor) Sura
Coco (Armor) Nova
Coco (Armor) Kunoichi
- Increased the number of Character Slot Expansion Coupons purchasable with Black Pearls by 1.