[DE] Zur Ankündigung auf Deutsch [LINK]
[FR] Voir Annonce en français [LIEN]
[ES] Ver aviso en español [LINK]
[TH] อ่านประกาศภาษาไทย [LINK]
[ID] Baca pengumuman dalam bahasa Indonesia [LINK]
[RU] Информация на русском [LINK]
[PT] Ver aviso em português [LINK]
Greetings, Adventurer!
The Daily Missions Event has started to celebrate the launch of the Tamer.
Complete the daily missions to earn an [Abyssal] Delphad Weapon Set!
See below for more details about this event.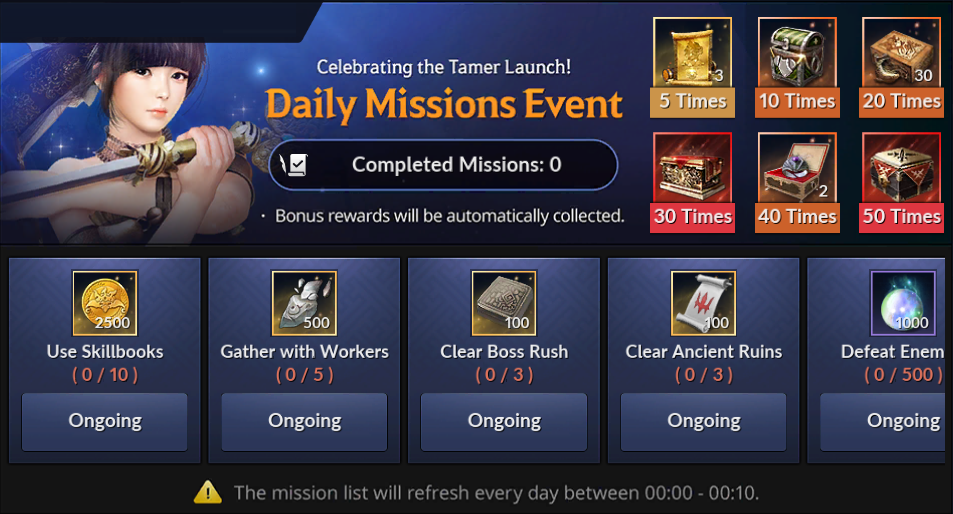 📢 Event Period
After the maintenance on October 13 (Tuesday) - Until November 2 (Monday), 23:59 (Server Time)
📢 Event Details
1) Complete 5 daily missions to earn the daily mission reward.
2) You'll receive bonus rewards when you complete the daily missions a given number of times.
※ Please Note
- Event items cannot be moved or restored.
- The event period and conditions are subject to change.
- Items obtained as event rewards may or may not be spiritbound.

Thank you.