[DE] Zur Ankündigung auf Deutsch [LINK]
[FR] Voir Annonce en français [LIEN]
[ES] Ver aviso en español [LINK]
[TH] อ่านประกาศภาษาไทย [LINK]
[ID] Baca pengumuman dalam bahasa Indonesia [LINK]
[RU] Информация на русском [LINK]
[PT] Ver aviso em português [LINK]
Greetings, Adventurers!

A new expedition into the ruins begins! We've prepared special missions for adventurers exploring the depths of the Ancient Ruins.
Complete the Ancient Ruins to earn rewards that enhance your gear. We wish you the best of luck!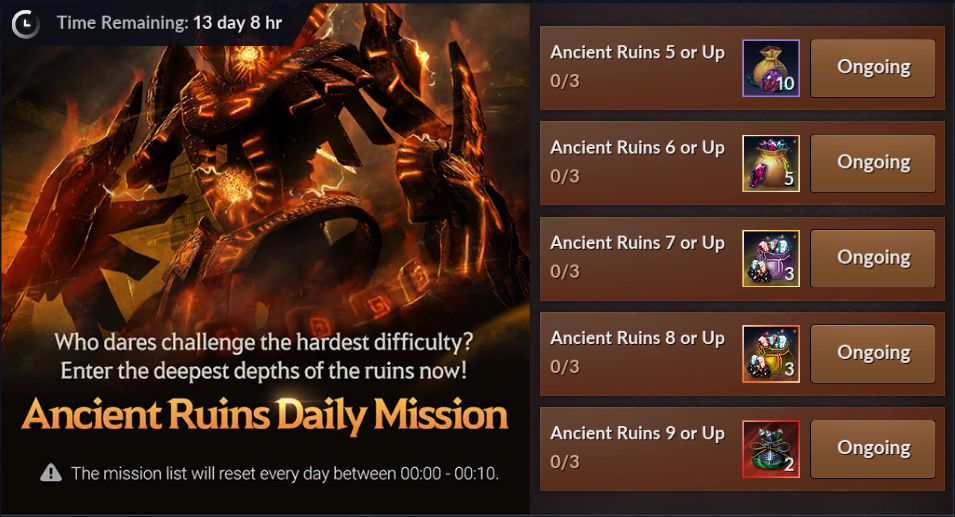 📢 Event Period
After the maintenance on September 15 (Tuesday) - Until September 27 (Sunday), 23:59 (Server Time)

📢 Event Details
- Complete the daily missions and receive beneficial rewards.
※ Please Note
- You must collect the rewards manually through the menu on the Event Tab.
- The mission list will refresh every day between 00:00 - 00:10.
- Event items cannot be moved or restored.
- The event period and conditions are subject to change.

Thank you.