[DE] Zur Ankündigung auf Deutsch [LINK]
[FR] Voir Annonce en français [LIEN]
[ES] Ver aviso en español [LINK]
[TH] อ่านประกาศภาษาไทย [LINK]
[ID] Baca pengumuman dalam bahasa Indonesia [Link]
[RU] Информация на русском [LINK]
[PT] Ver aviso em português [LINK]
Greetings, Adventurers!
Eileen is has arrived and is waiting to greet all Adventurers!
Drop by Eileen's Shop to get rewards that'll help in your adventures!
Find out more below!

📢 Event Period
After the maintenance on May 26 (Tuesday) - Until the scheduled maintenance on June 2 (Tuesday)
📢 Event Details
1) Tap on the gift icon next to the minimap.
2) Go to the [Eileen's Shop of Wonders] event and then tap on [100,000] to purchase the reward.
- You can purchase a maximum of 200 Eileen's Box of Wonders per day (it will be available again afterwards).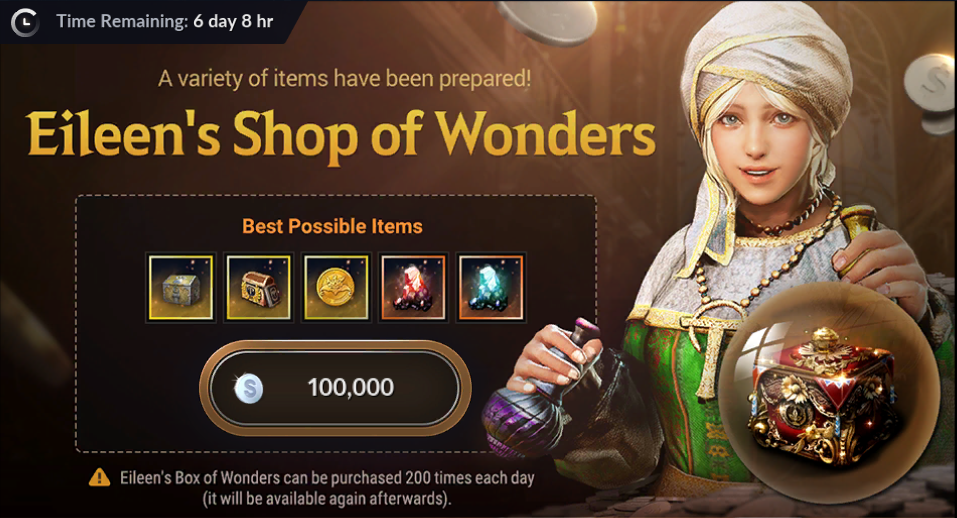 ※ Please Note
- The purchase count for the event will reset between 00:00 - 00:10 every day.
- The rewards obtained from this event are [Spiritbound].
- The Event Period is subject to change.

Thank you.