[DE] Zur Ankündigung auf Deutsch [LINK]
[FR] Voir Annonce en français [LIEN]
[ES] Ver aviso en español [LINK]
[TH] อ่านประกาศภาษาไทย [LINK]
[ID] Baca pengumuman dalam bahasa Indonesia [Link]
[RU] Информация на русском [LINK]
Greetings, Adventurers!

Is this your first time? Or are you back from a short break?

We've prepared awesome rewards for both new and returning adventuruers.
Find out more below.
📢 Event Period
After the 3/17 Maintenance - Until the 4nd maintenance of April
📢 Eligible Adventurers
1) [New] Adventurer who created a Family after the 3/17 Maintenance
2) [Returning] Adventurers who have not been active for 14 days or more since their last log in.
📢 Event Details
1) Log in every day during the event period.
2) Tap on the gift icon located on the right side of the minimap.
3) Collect reward from the check-in.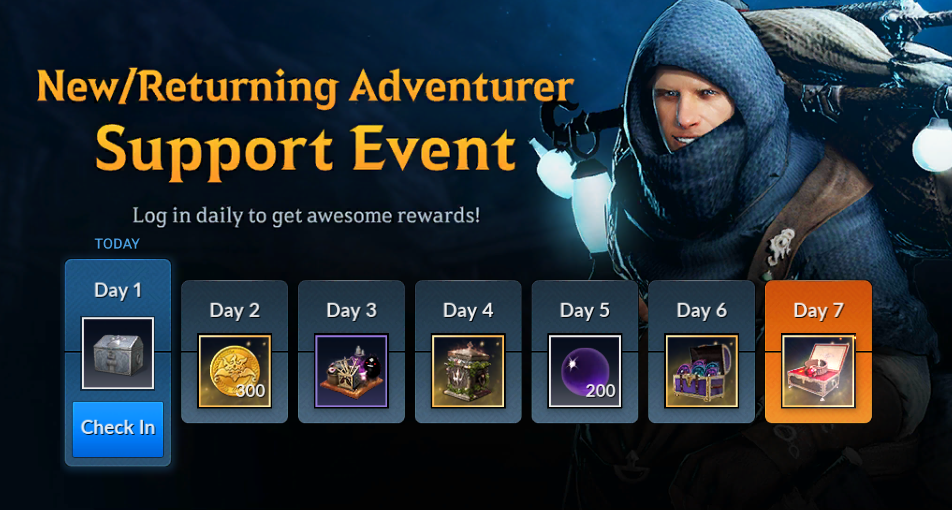 ※ Please Note
- Please make sure to tap [Check In] in order for your check-in to count towards the event and to claim rewards.
- Check-in refreshes every day at 00:00 ~ 00:10.
- Log-in rewards are sent to the inventory of the character you are playing with and spiritbound.
- Event rewards can only be collected once.
- You cannot claim the day 2 check-in reward if you didn't collect the previous day 1 check-in reward.
Example: If you didn't tap [Check In] from day 1 of the event, the check-in will not count.
As a result, you'll start from day 1 even though it is the second day of the event.
- The event period is subject to change.

Thank you.