[DE] Zur Ankündigung auf Deutsch [LINK]
[FR] Voir Annonce en français [LIEN]
[ES] Ver aviso en español [LINK]
[TH] อ่านประกาศภาษาไทย [LINK]
[ID] Baca pengumuman dalam bahasa Indonesia [Link]
[RU] Информация на русском [LINK]
[PT] Ver aviso em português [LINK]
Greetings, Adventurer!

Are you enjoying your adventures with your mysterious fairy?
Complete daily missions with your fairy to get [Holy Vial of Light], [Vase of Dawnlight Dew], and [Tiny Orchestra]!
Also, you can receive [Exuberant Sunstone] x1000 for completing 15 daily missions, so be sure to do your dailies!


※ [[Event] Vase of Dawnlight Dew] must be used within 72 hours of acquisition.
※ [Tiny Orchestra] fills your fairy's Interest by 150.
※ [Exuberant Sunstone] can be used to enhance your fairy's Brooches.


---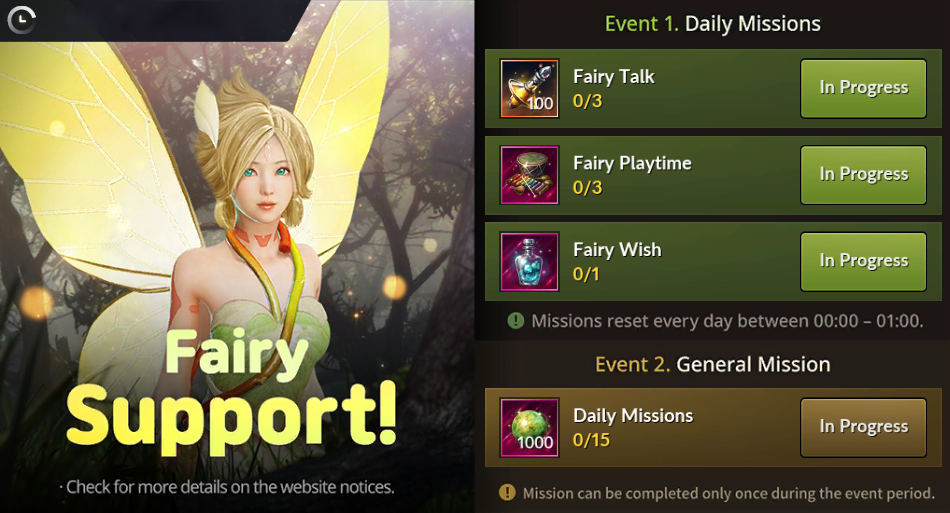 ▏Event Period
After maintenance on Nov 1 (Tue) - Nov 7 (Mon), 23:59


▏Event Details
1) Tap the gift box icon on the right side of the minimap to open the event screen and check the "Fairy Support!" tab.
- Complete missions and obtain rewards. 


▏Event Tab Open Requirement
Complete Kamasylvia main quest "Lemoria Guard Post Commander."


※ Please Note
- The event period and conditions are subject to change.
- Mission list refreshes daily between 00:00 - 01:00.


Thank you.