[DE] Zur Ankündigung auf Deutsch [LINK]
[FR] Voir Annonce en français [LIEN]
[ES] Ver aviso en español [LINK]
[TH] อ่านประกาศภาษาไทย [LINK]
[ID] Baca pengumuman dalam bahasa Indonesia [Link]
[RU] Информация на русском [LINK]
[PT] Ver aviso em português [LINK]


Greetings, Adventurer!

Do you know that Great Desert Temple locations refresh every month?


Explore the new locations of temples in the Great Desert from June 1st.


Obtain [100% Great Desert Hot Time (20 Minutes)], [Frozen Purified Water], and [[Mystical-Primal] Elion Rune Chest] through this event during June.


Continue this journey towards the brilliant pillars of light that soar up to the sky!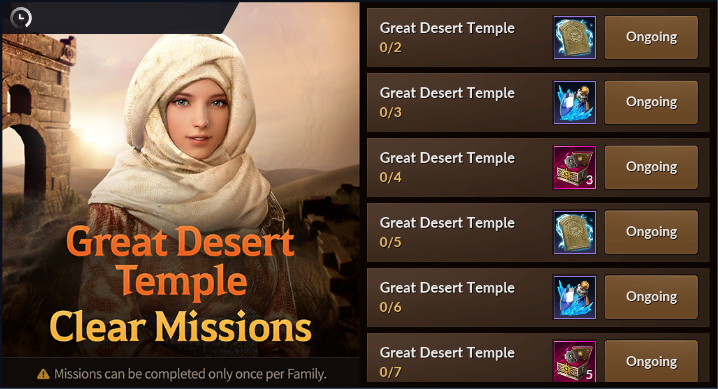 📢 Event Period
Jun 1 (Wed) 00:00 - Jun 30 (Thu), 23:59


📢 Event Details
- Complete missions to obtain rewards.


📢 Event Tab Open Requirement
Complete Family Quest "The Opening of the Desert"


※ Please Note
- Missions can be completed only once per Family.
- The event period and conditions are subject to change.


Thank you.