[DE] Zur Ankündigung auf Deutsch [LINK]
[FR] Voir Annonce en français [LIEN]
[ES] Ver aviso en español [LINK]
[TH] อ่านประกาศภาษาไทย [LINK]
[ID] Baca pengumuman dalam bahasa Indonesia [Link]
[RU] Информация на русском [LINK]
[PT] Ver aviso em português [LINK]
Greetings, Adventurer!


Collect [Twilight Boost Token] by defeating enemies, and exchange them in the event tab!


There are many items available for exchange such as [Adventurer's Ancient Inscribed Glyph], [Restoration Scroll], [Tear of the Goddess], and [Adventurer's Luthraghon Accessory Set Chest]!


Start your adventure now and get these tokens!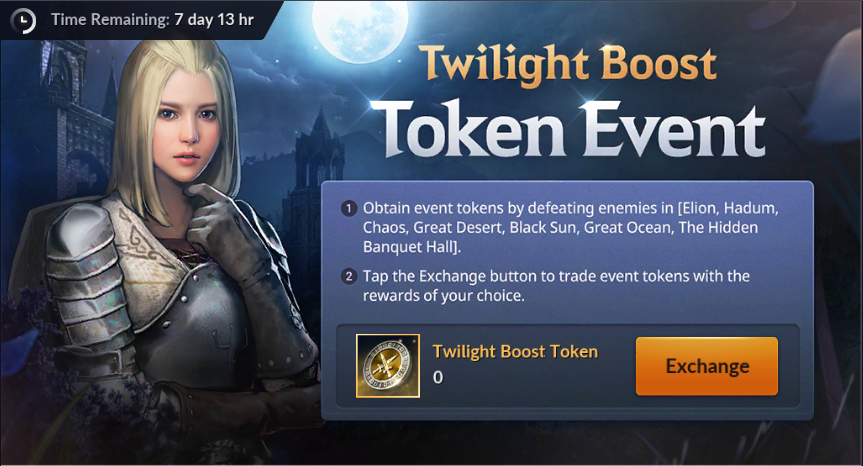 Event Period
After maintenance on Jul 26 (Tue) - Aug 1 (Mon), 23:59


Event Details
1) Tap the gift box at the right side of the minimap and open "Twilight Boost Token Event."
2) Obtain [Twilight Boost Token] by defeating enemies.
※ [Twilight Boost Token] can be obtained in the following areas:
- Elion, Hadum, Chaos, Great Desert, The Hidden Banquet Hall, Great Ocean
3) Tap on the [Exchange] button to exchange them for rewards.


Event Tab Open Requirement
- None


※ Please Note
- The event period and conditions are subject to change.


Thank you.