[DE] Zur Ankündigung auf Deutsch [LINK]
[FR] Voir Annonce en français [LIEN]
[ES] Ver aviso en español [LINK]
[TH] อ่านประกาศภาษาไทย [LINK]
[ID] Baca pengumuman dalam bahasa Indonesia [Link]
[RU] Информация на русском [LINK]
[PT] Ver aviso em português [LINK]
Greetings, Adventurer!

To the Adventurers who have [Hadum's Token]!
In this event you can view Genoveva's Shop at a much faster pace.
Be sure to visit Genoveva's Shop at Hadum: Heidel from Apr 20 (Wed) to Apr 25 (Mon)!
Only 2 Ultimate Rewards will be in stock, and Genoveva's Shop will close once they are out of stock.
Please note that the x10 increase will not apply to the Ultimate Reward.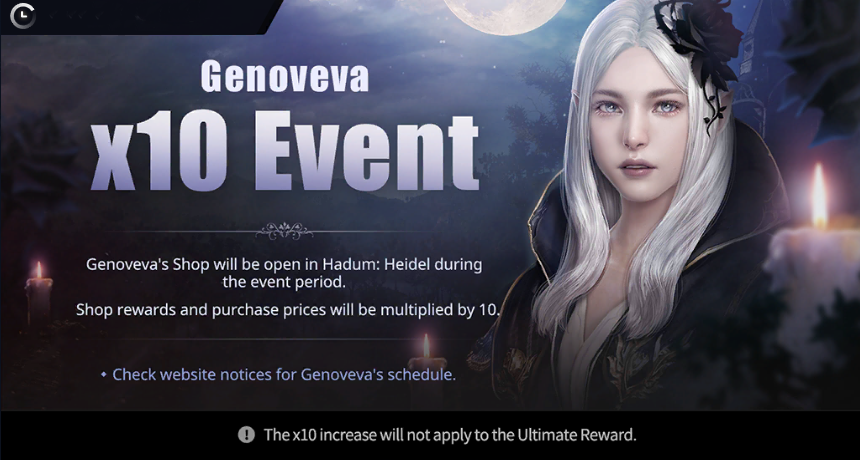 📢 Event Period
4/20 (Wed) ~ 4/25 (Mon), 17:00 (Server Time)
📢 Event Details
1) Genoveva's shop will open every day at 17:00 during the event period.
2) The shop's rewards, purchase cost, and refresh cost will all be increased ten-fold, allowing the shop to be used more quickly.
※ The Ultimate Reward amount and cost will not be increased ten-fold.
※ When Genoveva's shop appears, you will be informed through notifications. 
📢 Event Tab Open Requirement
Complete Family Quest "Necessary Supplies"
※ Please Note
- The event period and conditions are subject to change.

Thank you.